REAL PEOPLE. REAL RESULTS.
HUNDREDS OF PEOPLE IN THE Livonia AREA LOSE WEIGHT, GAIN STRENGTH, AND LIFE A HEALTHIER & HAPPIER LIFE.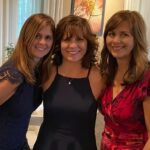 I began my CrossFit journey over two years years ago and I can say with certainty that I will be doing this forever. Everyone in this community we call CrossFit North Industry, starting with the main coach Dennis Fenrich, is committed to fitness, proper nutrition, fun, perseverance and safety. We are a community of older folks, young people, super fit folks and people with health and wellness challenges but we all share a love of striving to be the best version of ourselves. You owe it to yourself to come see it for yourself. You will not be disappointed.

If you're at all interested in making a commitment to your health and to your future, you have to try CrossFit. Its programming and philosophy will undoubtedly help you maintain the consistency and support you need to be successful. And if you're in the Livonia area, you need to come to CrossFit North Industry. The community there is like any other. Truly a family of individuals who love and support one another in their health and fitness growth. The effectiveness of the workouts will prove themselves quickly, but the accountability and the team of people you'll have by your side is what will keep you coming back for years to come.
I started an on-ramp program with Dennis nine months ago. My body and my mind were at an all time low, and I knew I needed to do something about it. At that time, I barely had enough cardio endurance to survive the Basic class. I knew the workouts would be hard, and that I'd have much to learn. I figured the staff would be supportive, and help to make sure I didn't get injured. I never imagined that I would become a part of CFNI's community and gain friends. In nine months, through much help and support (and yes sometimes encouragement) of Coach Dennis and Rey, I've dropped 30 lbs and I'm much happier. I've learned not just the movements, but about nutrition and the body. The people make this place different, if your in a similar situation you should give it a try. I can not recommend this place highly enough.
It is my 24 month anniversary since I started cross fit. CrossFit North Industry is a very community oriented box. Dennis and his team make sure you are correctly lifting and staying within your means. All the members work and encourage each other to do their best. Their is a wide range of athletes, yet no one is ever made to feel inferior to the other. I highly recommend if you want to get yourself in shape this CrossFit box is the one I would recommend.
A "box" is only as good as its coaches and this is where CFNI really shines. Head Coach Dennis Fenrich has put together an excellent team that all care about your progress and safety. The members are all very friendly, welcoming and supportive. This is also a very clean facility and they are constantly investing in improvements and new equipment. I drive 20-25 minutes past 4 other boxes to get here if that tells you anything.